! meta name="Template" content="C:\Programfiler\Microsoft Office\Office\HTML.DOT">
ACTIVITIES
Lyngør is a place for sea, sail and other maritime activities during the summer season. Every second year we have a poetry festival taking place in the spring. The event this year will be advertised later, and the participants will be announced in due time. The so-called "Lyngør-days" takes place every year end of July. This special event displays art and handicraft as well as an exhibition where local people market their own produced products, for sale. During the "Lyngør-days", a competition takes place too, a "Maritime Pentathlon". The competitors must go through a tough time, swimming, running, rowing as examples. Many tourists visit Lyngør during these days and the atmosphere is hectic. Another event is the "The Week of Coastal Culture" which is a week of cultural events, see the picture below.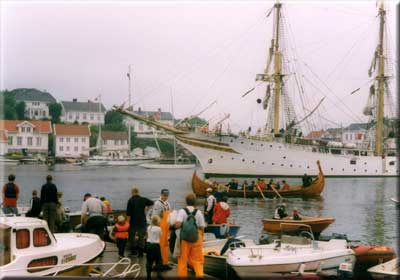 Dykking:
tel. 91 58 99 45
faks. 37 16 31 40
Her vil du finne: Salg og utleie av dykkerutstyr. Prøve dykk. Guidet dykkerturer. Dykkerkurs og luftfylling.

Utstillinger:
Samlinger som ligger i 2. etg. På den Blå Lanterne i 2. etg. Adr. Holmen 4910 Lyngør.
Her kan du se Lyngør's historie og Terje Vigen museet.

Båtutleie:
Gjeving Marina
tel. 37 16 63 67
Eller
Lyngørporten Marina
Tel. 37 16 67 60 eller
tel. 37 16 68 00.

Knytting av tauverk